Enterprise Data World is now a Virtual Event
DATAVERSITY and DAMA International announced that the EDW Chicago program would be changed
to a virtual format and closed registration. All existing registration pass holders were notified of these
changes on July 20, 2020, in an email from CEO Tony Shaw. Click "Learn More" for additional details.
Learn More
Venue & Travel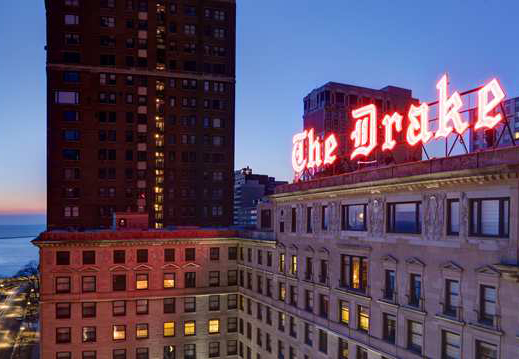 Conference Venue and Hotel
The Drake Hotel
140 East Walton Place
Chicago, Illinois 60611
The block room rate is $259 per night.
This room rate expires at 5 pm (Central Time) on September 28, 2020.
Book Online
---
Reservations
To book your room(s) at The Drake Hotel online, click here. You do not need to enter a group code as the form will pre-populate.
To make your reservations by phone, call the reservation desk at 800-55-DRAKE – code DATA group rate. Subject to availability.
If you have any difficulty booking a room at The Drake Hotel, please call us at 310-337-2616, ext. 1 or email us, and we will do our best to help.
---
Internet
Attendees booked at The Drake Hotel under the Enterprise Data World room block will have access to free internet in their sleeping rooms.
Parking
Overnight Valet Parking is $75 (24 hours, unlimited in and out).
Overnight Self Parking is $53 – Park at 900 North Michigan Building and get validation from the front desk (up until 2 PM the day of checkout).
---
Airport/Ground Transportation
O'Hare International Airport

ORD Travel distance: 14 miles

Driving directions: Take I-90/94 East, Exit Ohio Street, Make left onto Michigan Ave, Proceed to Delaware make a right, Proceed to Mies Van Der Roe make a left on Walton to Drake Hotel.

Bus service: Continental Air Transport

Super Shuttle: $30.00 (one way)

Estimated taxi fare: $42.00 (one way)

Subway/Rail fare: $2.25 (one way)

Midway Airport - MDW

Travel distance: 17 miles

Driving directions: Take Cicero Avenue to I-55 (To Chicago), Exit at Ohio Street. Follow Ohio Street eastbound and turn left onto Michigan Avenue. Turn right at Delaware Street, proceed to Mies Van Der Roe, make a left on Walton to Drake Hotel.

Bus service: Shuttle Super Shuttle: $13.00 (one way)

Estimated taxi fare: $22.00 (one way)

Subway/Rail fare: $2.25 (one way)

Other Transportation

Driving directions:
Click here