Enterprise Data World's new dates and location have been announced!
If you haven't already heard, EDW will officially be held at The Drake Hotel on October 18-23, 2020!
Learn More
Track:
Data Governance
The Data Governance Professionals Organization (DGPO) is an international non-profit, vendor-neutral, association of business, IT and data professionals dedicated to advancing the discipline of data governance.
The DGPO provides a forum that fosters discussion and networking for members and seeks to encourage, develop and advance the skills of members working in the data governance discipline. The DGPO Data Governance Best Practices Framework is recognized as the industry standard for data governance. Members have access to best practices documented for each of the six categories in this framework. The framework was developed by the DGPO community based on real-life lessons learned and will continue to grow over time.
The DGPO issues a call for submissions for the Annual Data Governance Best Practice Award. The award is given to practitioners within a customer organization, corporation or government agency in recognition of an outstanding data governance program.
The DGPO has over 16,000 list members and more than 1500 members.
To learn more about the DGPO please visit https://www.dgpo.org.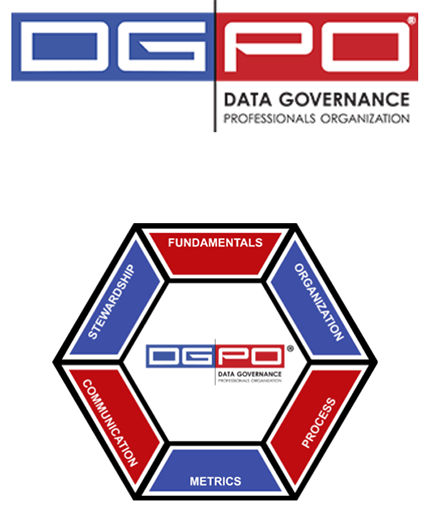 Date + Time
Sessions
Speakers
Monday
08:30 AM - 11:45 AM
AM4: Sustainable Data Governance: Operationalization
Sarah Rasmussen, First San Francisco Partners

Monday
01:30 PM - 04:45 PM
PM3: How to Implement Systems for Enterprise Data Management and Governance
April Reeve, Bristol Myers Squibb

Monday
01:30 PM - 04:45 PM
PM4: A Complete Set of Data Governance Roles and Responsibilities
Robert S. Seiner, KIK Consulting/TDAN.com

Tuesday
07:30 AM - 08:15 AM
Rebuilding a Data Dictionary for Data Classification
Ilker Tufan, Garanti BBVA Teknoloji

Tuesday
11:05 AM - 11:55 AM
Agile Data Governance
Laura Madsen, Via Gurus

Tuesday
01:00 PM - 01:50 PM
Aligning Your Data Management Team (Onshore and Offshore) to the Roles and Responsibilities of a Data Governance Framework
Rich Bellefeuille, Land O'Lakes

Tuesday
02:55 PM - 03:45 PM
Leveraging a Data Catalog to Govern the Cloud: You Can't Govern What You Can't Find
Alissa Schneider, Sense Corp
Kunal Sharma, Sense Corp

Tuesday
04:00 PM - 04:50 PM
Establishing a Data Governance Program from the Ground Up
Jun Davantes, Credit Union National Association (CUNA)

Tuesday
04:00 PM - 04:50 PM
Facilitated Discussion: How to Demonstrate the Value of Your Data Governance Program
Len Silverston, Universal Data Models, LLC
James P. Johnson, Scripps Health

Wednesday
08:30 AM - 09:20 AM
How to Roll Out a Data Governance Program Across Multiple Business Units
Roni Schuling, Principal Financial Group
Kelsey Coffin, Infogix
Marisa Macho, Principal Financial Group

Wednesday
08:30 AM - 09:20 AM
Balancing Agility and Governance for Self-Service Analytics
Sarah Rasmussen, First San Francisco Partners

Wednesday
10:30 AM - 11:20 AM
Data Governance, Data Leadership, Data Architecture: How Can a Coin Have Three Sides?
Robert S. Seiner, KIK Consulting/TDAN.com
Anthony J. Algmin, Algmin Data Leadership

Wednesday
11:35 AM - 12:25 PM
Automating Data Governance Processes with Open Source
Daryl Heinz, DFHEINZ LLC.

Wednesday
11:35 AM - 12:25 PM
Using Data Governance to Facilitate Data Sharing in Government Agencies
Jayne Dutra, Multnomah County

Thursday
08:30 AM - 09:20 AM
The Maturity Model: How to Truly Monetize Your Data
Ian Rowlands, ASG Technologies

Thursday
09:30 AM - 10:20 AM
Gleaning Powerful Insights Around Cost and Control Optimization from Data Lineage
Thadi Murali, Capco
Rishi Sanghavi, Capco

Thursday
10:40 AM - 11:30 AM
Data Governance HelpDesk
Suemee Shin, BMO

Thursday
10:40 AM - 11:30 AM
Pillars of the Successful API Governance
Boris Vernoff, ADP, Ltd.

Thursday
02:00 PM - 05:15 PM
S3: Enterprise Data Governance & Stewardship: Full Life Cycle Roadmap
David Marco, EWSolutions

Thursday
02:00 PM - 05:15 PM
S4: Build Your Own Fully Functioning Data Catalog
Matthias Chan, Cargill, Incorporated

Friday
08:30 AM - 11:45 AM
S3: Enterprise Data Governance & Stewardship: Full Life Cycle Roadmap
David Marco, EWSolutions

Friday
08:30 AM - 11:45 AM
S4: Build Your Own Fully Functioning Data Catalog
Matthias Chan, Cargill, Incorporated